New article
from your news rule in Inoreader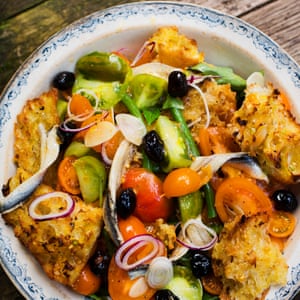 Soft buns and carrot burgers, brioche for a summer pudding or toasted breadcrumbs with brown shrimp: Nigel Slater offers five ways with bread
We tend to eat less bread in summer, and there are only so many breadcrumbs my deep freeze can swallow. I still buy a loaf, to toast for bruschetta, or to dunk in chewy, crisp-crusted pieces in olive oil. The leftovers, of which there are many, end up in classic versions of panzanella and summer pudding but I like to use them in more original ways too. Crumbed and toasted bread can be tossed with brown shrimps and parsley as a coating for soft, olive-oily beans or courgettes. Sliced rich breads suc h as panettone and brioche can be toasted and used as a base for soaking up the sweet, scented syrup from baked cherries or gooseberries. And then of course there are bread-based recipes that are part and parcel of summer, such as burgers and soft baps filled with crisp fried vegetables, crunchy salsas.
Continue reading...
Inoreader is a light and fast RSS Reader. Follow us on Twitter and Facebook
You have matches for "a"